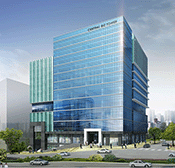 - The Central Research Institute of SCD was founded on October 5th, 1994.

- Our purpose is to: discover and develop innovative, cost-effective medicines for enhancing and extending human quality of life.

- In less than three years, SCD Central Research Institute has developed a preparation of microshere using a spray dryer and delivered a poorly water soluble antifungal drug.

- In addition, our research activities are developing incrementally modified drugs for incurable diseases such as diabetes and hyperlipidemia.

- Also, SCD Central Research Institute will strengthen its-own core technology in the field of specialized formulation research and ocular permeation research.


Core Technologies (Microsphere)
- To prepare microsphere for enhancement of solubility and dissolution rate of poorly water soluble drug using a spray dryer

- The Crystallinity of microsphere of poorly water soluble drug with a spray dryer was decreased instead of intact that and the microsphere was almost amorphous form.

- High technology of improving a bioavailability of poorly water soluble drug with nanotechnology